X
Khajuraho
Khajuraho is known for its ornate temples that are spectacular piece of human imagination, artistic creativity, magnificent architectural work and deriving spiritual peace through eroticism. Khajuraho Temples are among the most beautiful medieval monuments in the country. These temples were built by the Chandella ruler between AD 900 and 1130. It was the golden period of Chandella rulers. It is presumed that it was every Chandella ruler has built atleast one temple in his lifetime. So all Khajuraho Temples are not constructed by any single Chandella ruler but Temple building was a tradition of Chandella rulers and followed by almost all rulers of Chandella dynasty.
Best Time to Visit
October to February
Connectivity
Bus and train are the best options
Attractions
Kandariya Mahadeo Temple, Chaturbhuj temple, Javari Temple, Raneh Falls, Ajaigarh Fort, Western Group of Temples
Bandhavgarh
Bandhavgarh National Park, the most popular national parks in India is located in the Vindhya Hills of the Umaria district in Madhya Pradesh. Declared as a national park in 1968 the Bandhavgarh National Park is spread across the area of 105 km². The name Bandhavgarh has been derived from the most prominent hillock of the area of Umaria. The area of Bandhavgarh is being flourished with a large biodiversity, the place which is also being famed to grip highest density of tiger population in India. Similarly, the park also beholds the largest breeding population of leopards and various species of deer. Over the years, the park has shown a great number of increases in the count of the tiger species and this is the reason why tiger tours is so famed to attract large amount of tourists at its vicinity.
Best Time to Visit
October- March
Connectivity
Train and Bues are the best options, Nearest airport- khajuraho
Attractions
Bandhavgarh National Park, Jeep Safari, Bandhavgarh Fort, Tala Village,
Goa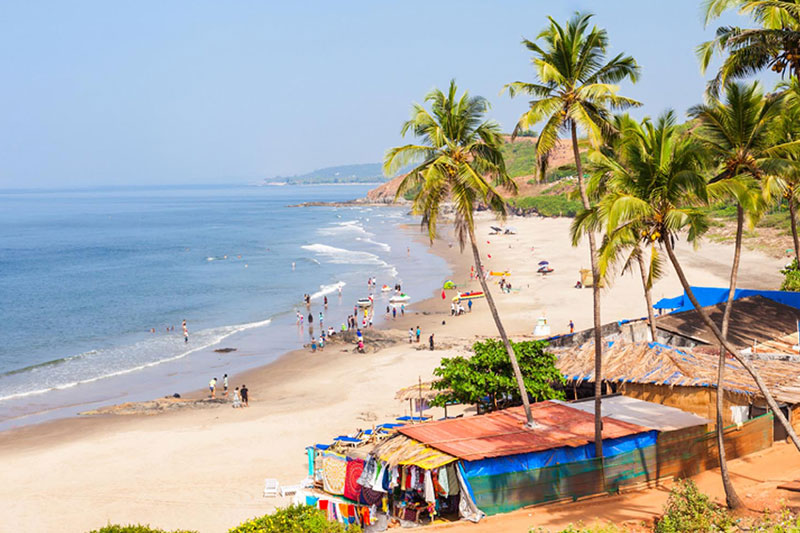 Beautiful views of golden sand on the beaches, blue waters of the sea, the sylvan forests, Palm-swathed hills, islands, and riverine waters are some of visual wonder which Goa generously and continuously keeps unfolding. Add to this the tang of fish-curry rice, the pleasure of discovering a crab under a stone, the moistened sips of cocum, and walking on a beach full of crisp seashells. This is where the mind stops thinking and the heart begins to talk! In monsoon this hundred-kilometre coastline becomes a fantasyland. On one side stands the palm trees swaying in the wind, and on the other is the vast Indian Ocean greeting you. This and much more is the attraction of Goa. Situated on the western coast of India, Goa is split into North Goa with Panaji the capital city and South Goa with Vasco da Gama and Margao in it.
Best Time to Visit
September to March
Connectivity
Air, Train and Bus are easily accessible
Attractions
Dona Paula, Panaji, Mapusa Bzaar, Calangute Beach, Dudhsagar Falls, Anjuma Beach, Fort Aguada
Mumbai
Mumbai, the capital of Maharashtra , is the fastest moving, most affluent and industrialized city in India . Mumbai is part of India 's beautiful west coast that runs down from Gujarat , through Mumbai to Goa , Karnataka and Kerala. The city has a natural harbour, which was developed by the British. It is one of the busiest ports of India , handling approximately 40 percent of India 's maritime trade. It is a city that is disciplined by no time frame-neither by day nor night. Mumbai is also the country's financial powerhouse, the nation's industrial heartland, and its economic nerve center. Dazzling shopping arcades, exciting sport activity, nightclubs and discotheques, theatre and music, gourmet restaurants and interesting sightseeing – Mumbai offers the visitor a heady mix of all this and more.
Best Time to Visit
November to February
Connectivity
Air, Train and Bus are easily accessible
Attractions
Gateway of India, Marine Drive, Elephenta caves, Shree Siddhivinayak, Bandra Worli Sea Link, Chhatrapati Shivaji Maharaj Vastu Sangrahalaya, Chhatrapati Shivaji Terminus, Chowpatty Beach, Hanging Gardens, Mani Bhavan Gandhi Sangrahalaya
Jaisalmer
Jaisalmer is a former medieval trading center and a princely state in the western Indian state of Rajasthan, in the heart of the Thar Desert. Known as the "Golden City," it's distinguished by its yellow sandstone architecture. Dominating the skyline is Jaisalmer Fort, a sprawling hilltop citadel buttressed by 99 bastions. Behind its massive walls stand the ornate Maharaja's Palace and intricately carved Jain temples.
Best Time to Visit
November-February
Connectivity
Air, Train and Bus are easily accessible
Attractions
Jaisalmer Fort, Camel Safari, Sam Sand Dunes, Gadi Sagar Lake, Gadi Sagar Lake, Patwa Ki Haveli, Patwa Ki Haveli, Bada Bagh, Kuldhara Village
Jaipur
The city is located at a distance of around 258 km from Delhi and 232 km from Agra, making it a part of the famed Golden Triangle tourist circuit of North India. Jaipur got its name from its founder Sawai Jai Singh (1693-1743), who had the vision to create a meticulously planned city as his capital. All the houses in the old city are painted pink, including the famous Hawa Mahal, thereby giving the city its alternative name, the Pink City.
Best Time to Visit
October to March
Connectivity
Air, Train and Bus are easily accessible
Attractions
City Palace, Jantar Mantar, Amber Fort, Hawa Mahal, CENTRAL MUSEUM, Nahargarh Fort
Udaipur
Often referred to as the 'Venice of the East', the city of lakes Udaipur is located around azure water lakes and is hemmed in by lush green hills of Aravallis. The famous Lake Palace, located in the middle of Lake Pichola is one of the most beautiful sights of Udaipur. It is also home to Jaisamand Lake, claimed to be the second largest man-made sweet water lake in Asia. The beautiful City Palace and Sajjangarh (Monsoon Palace) add to the architectural beauty and grandeur of the city. The city is also known for its profusion of zinc and marble. Solar observatory in Lake Fateh Sagar is the only observatory in India located on an island and has been made on the pattern of Big Bear Lake in Southern California. The ten-day Shilpgram Festival which starts from 21 Dec to 30 Dec pulls in a large number of people interested in arts and crafts. Udaipur was founded in 1553 by Maharana Udai Singh II as the new capital of Mewar Kingdom. It is located in the fertile, circular Girwa Valley to the southwest of Nagda, which was the first capital of Mewar.
Best Time to Visit
October to March
Connectivity
Air, Train and Bus are easily accessible
Attractions
Lake Palace, Pichola Lake, City Palace, Jag Mandir, The Monsoon Palace, Fateh Sagar Lake, Kumbhalgarh Fort, Shilpgram, Bhartiya Lok Kala Museum, Bagore Ki Haveli
Jodhpur
Jodhpur, the second largest city in Rajasthan , has a fascinating past. In case you were wondering, yes, it is where jodhpurs got their name from! These unusual pants were designed by the Maharaja of Jodhpur's son, Pratap Singh, and worn by his polo team when visiting the Queen of England in 1897. Jodhpur is famous for its blue buildings, which were originally painted to signify that they were occupied by Brahmins, the highest caste in India. This list of 12 top Jodhpur attractions and places to visit will give you a diverse experience of the city. If you have a spare day or two, visit nearby Bishnoi village or Osian, where you can see carved temples and go on a less-touristy camel safari.
Best Time to Visit
October to March
Connectivity
Air, Train and Bus are easily accessible
Attractions
Mehrangarh Fort, Umaid Bhawan Palace, Jaswant Thada (Tomb), Mandore Gardens, Kailana Lake, Clock Tower, Chamunda Mata TempleRao Jodha Desert Rock Park
Kanha
Situated in the Indian state of Madhya Pradesh, the picturesque Kanha National Park was the inspiration behind Rudyard Kipling's unforgettable classic Jungle Book. The romance of the Kanha National Park has not reduced over time-it is still as beautiful. If one were to point to the middle of India, chances are he will pick out the forests of the Banjar and the Halon valley, the two forming the western and eastern halves of the Kanha Tiger Reserve, which have long been famous for their wide diversity of wildlife. The park was created in 1955 by a special law and, since then, it has dedicated itself in preserving a variety of animal species
Best Time to Visit
October to june
Connectivity
Train and Bues are the best options, Nearest airportSstation- Janalpur
Attractions
Kanha Kisli National Park,Kanha Museum, Kawardha Palace, Amarkantak