X
Ladhakh
Ladakh is an abode of wonders and dream like places that can woo anyone right after the first glimpse. The region is famed for its rustic Buddhist monasteries that are nestled and sometimes perched in the barren mountains. Ladakh is also home to some surreal high altitude lakes like Pangong and Tso Moriri, adorned with azure water and flawless surroundings, these alpine lakes are important tourist attractions. The coldest desert of Hunder Village and the native inhabitants, Bactrian Camels are something that you cannot afford to miss in Ladakh. Another view to fall in love with in the region is the confluence of Rivers Zanskar and Indus at Nimmu. The charming Phugtal Monastery also seem to get a lot of attention from the tourists, whereas the Hemis Monastery during the annual festival is something one would regret not visiting. Wildlife adventurists can quench their thirst for some jungle adventure in Hemis National Park, whereas those wanting to visit only touristy places can witness Leh Palace, Shanti Stupa, War Memorial and the Hall of Fame.
Best Time to Visit
June to September
Connectivity
Connected by flight from Delhi and Srinagar
Attractions
Zanskar Valley, Pangong Tso Lake,Nubra Valley, Hemis National Park, Hemis Monastery, Spitul Gompa, Magnetic Hill
Srinagar
Famously known as 'Heaven on Earth', Srinagar is every bit the epitome of paradise on earth. As picturesque as the most stunning painting to ever be painted, Srinagar, the capital of Jammu and Kashmir, lies on the banks of the Jhelum river, and has a cool, pleasant climate all year round, contributing to the perpetual influx of tourists visiting this city which offers a plethora of gorgeous scenic vistas. From the ferocious waters of Pahalgam to the serene pastures of Gulmarg, everything about Srinagar will give you goosebumps, no matter where you're looking at. Once you visit Srinagar, the first thing you do is close your eyes and breathe in lungfuls of the clean, fresh mountain air. The second thing you do is hire a houseboat and pay a visit to Dal Lake. Hills surround the most famous tourist spot in all of Kashmir, Dal Lake, and as long as your sight takes you, you can see the mountains reflected in the water. Taking a Shikara ride on Dal Lake is also a must-do activity. Bedecked with colourful rugs and carpets, these gondola-type rowboats take tourists to see attractions like the Floating Vegetable Market, and the Mir Bahris – a lively community of people who live on the lake itself. You can also spend a night in one of the houseboats, and wake up to a magnificent sunrise that will take your breath away. Dal Lake also offers water sports such as kayaking and skiing, for those interested.
Best Time to Visit
April to October
Connectivity
Coonected by Flight from Delhi
Attractions
Nigeen Lake, Wular Lake, Chatpal, Betaab Valley, Aru Valley, Mughal Gardens, Dachigam National Park, Hazratbal Mosque, Hazratbal Mosque
Dharamsala
'Dharamshala,' located in the scenic valleys of Kangra in Himachal Pradesh. This calm and serene hill station is situated at an average altitude of 1,475 meters above sea level and is surrounded by thick deodar cedar trees, snow-laden mountains, exotic culture, and quaint old monasteries. The presence of the great Tibetan leader Dalai Lama along with other Buddhist nuns & monks and several Tibetan Monasteries has made Dharamshala one of the most popular tourist destinations in India. The picturesque surroundings of Dharamshala and the presence of great Buddhism culture make this hill stations one of the best in India. Also, Dharamshala tourism is at its peak during summer, when the temperature is at its peak. There are a lot of other attractions in Dharamshala like the charming St. John Church, headquarters of His Holiness the Dalai Lama, Dal Lake, etc. that draw tourists from different parts of the country.
Best Time to Visit
March-July
Connectivity
Taxi and bus are the best optins
Attractions
Tsuglagkhang Complex , Namgyal Monastery, Kareri Dal Lake, , Kangra Fort, Masroor Rock Cut Temple, Bhagsunag Waterfalls,
Shimla
Shimla hill station is still the colonial summer capital to which British used to retreat in when heat of Indio-Gangetic plains used to become unbearable. Be it grey-stone work of Vice Regal Lodge, or Gaiety Theater putting neo-gothic architectural excellence, the beauty of building seem to come alive and not only staying in eyes of beholder. The Elizabethan style mixed and merged with different other forms in buildings like Ellerslie, Christ Church, Gorton Castle, Wood Ville, etc are a must-see. Spirits of that past attracts enthusiasts from India as well as abroad when this hill city has been made capital of state of Himachal Pradesh after India got its Independence. However, this is not the sole reason for why to come to Shimla. Smooth slopes of Snow-draped mountain peaks are absolute invitation to the skiers by spirit or profession. While camping and trekking trips, doing yoga facing the mild rays of waking sun might become the other reason.
Best Time to Visit
March to June
Connectivity
Taxi and bus are the best optins
Attractions
Jakhoo Hill, The Scandal Point, The Shimla State Museum, Chadwick Falls, Mall Road, Christ Church, Himalayan Bird Park,Kufri
Mussorie
Mussoorie, Queen of the Hills, located some 290 km north of New Delhi, is among the most popular hill stations of the country. It is a captivating paradise for leisure travellers and honeymooners. A perfect summer resort and a major educational and cultural centre has been rolled into one hub. Located on a 15 km long horseshoe ridge with the grand Himalayas as a backdrop, the colonial hill resort of Mussoorie spreads across at a height of 2,005.5 m above sea level. From this vantage point, Mussoorie offers superb scenic view of peaks of the Himalayas in western Garhwal. Mussoorie boasts of some of the most spectacular views of the Himalayas. Hill ridges, irregular in shape and partly wooded, form layer after layer to the horizon, where snow capped mountain peaks are visible as though you can touch them. From West to East, the mighty peaks of Bandar Poonch, Srikantha, the Gangotri group and the Chaukhamba present a mesmerizing panorama. 34 km from Dehradun, Mussoorie overlooks the majestic Doon valley to its south and the impressive Himalayas up north.
Best Time to Visit
March -June
Connectivity
Bus , train and Nearest airport is Jolly Grant, Dehradun
Attractions
Kempty Falls, Jharipani Falls, Mossy Falls, Lake Mist, Mussoorie Lake, Lal Tibba, Benog Wildlife Sanctuary, The Mall Road
Rishikesh
Located in the foothills of the Garhwal Himalayas, the town of Rishikesh abounds in temples and ashrams. The world famous pilgrimage town is perched at an altitude of 1,360 ft a.s.l..Rishikesh area is known as 'Kubjamrak' as Lord Vishnu appeared, under a mango tree. The name Rishikesh is loosely applied to an association of five distinct sections encompassing not only the town but also hamlets and settlements on both sides of the river Ganges. These include Rishikesh itself, the commercial and communication hub; the sprawling suburb Muni-ki-Reti or the "sands of the sages"; Shivananda Nagar the home of Sivananda Ashram and the Divine Life Society founded by Swami Sivananda, north of Rishikesh; the temple section of Lakshman Jhula, a little further north; and the assorted Ashrams around Swarg Ashram on the east bank. One can reach the famous Neelakanta Maha Deva Temple from here.
Best Time to Visit
September -November
Connectivity
Bus, Taxi and Train
Attractions
Laxman Jhula, Shivpuri, Neelkanth Mahadev Temple, Kaudiyala- rafting Spree, Ram Jhula, Triveni Ghat, Jumpin Heights,
Natalina
Nainital is located at a height of 1938 metres in the Central Himalayas in the Kumaon region. Kumaon is a glittering jewel in the Himalayan necklace, blessed with scenic natural splendour and varied natural resources. In the year 1841, Mr. P. Barron of Shahjahanpur was so moved by the scenic splendour of the place that he had a house constructed by the name "Pilgrim Cottage" and gradually a township sprung up around the lake. Nainital is a famous hill station and has a varied topography. There are various lakes in Nainital and as such it is also known as the Lake District of India. The main lake in Nainital is the Naini Lake and Nainital derives its name from this lake. This lake is ringed by hills and named after the goddess Naini. Nainital used to be the summer capital of the United Provinces during the British period and continued to remain so for many years even after independence.
Best Time to Visit
March to June
Connectivity
Bus, Train and nearest airport is Patna Nagar
Attractions
Naini Lake, Eco Cave Gardens, Naini Peak, Naini Peak, The Mall Road, Snow View Point, Nainital Zoo, Naina Devi Temple
Varanasi
One of the world's earliest cities and famous pilgrimage destination for Hindus, "Varanasi" is a must see for anyone who lives or travels in India. With a number of things to do, from visiting quiet Ghats, array of temples to witnessing the vibrancy of culture, devotion of the devotees, chanting of the prayers, eternal history or the symbols of a rich and splendid era and of course the list goes on and on has always attracted religious as well as non-religious tourists from all over the world. So, this year get ready to take a break from the crazy schedule of daily life and soak your senses in the secret aura of divinity in a beautifully nestled city on the bank of the sacred River Ganga
Best Time to Visit
October to March and November- Ganga Mahotsav
Connectivity
Air, Train and Bus are easily accessible
Attractions
Assi Ghat, Manikarnika Ghat, Kashi Vishwanath Temple, Ramnagar Fort & Museum, Dasaawamedh Ghat, Ganges River, Sarnath
Corbett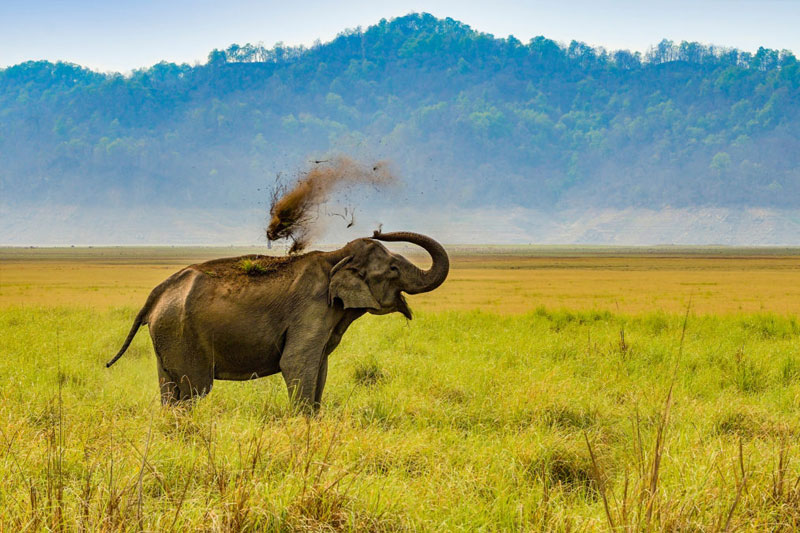 A throbbing getaway to the foothills of the Himalaya into the wild, Corbett National Park, which is located in Uttarakhand along the banks of River Ramganaga, clamps down on several activities like jungle safaris, birding, trekking, fishing, camping and elephant rides. Formerly known to be Jim Corbett National Park, dedicating the legendary British hunter and conservationist Sir Edward James Corbett, the Corbett National Park today is a home to several endangered species including reptiles, mammals and birds. The vast eco sphere that displays a plethora of varied species of plants is an invigorating and natural hub to myriad eco-travellers, adventurers and wildlife photographers. The rich terrain, from the foothills to the plains, is divided into five safari zones that allows travellers to whizz and explore the waylay wild wood.
Best Time to Visit
November -June
Connectivity
Bus Train are the best options
Attractions
Kosi River, Garjiya Devi Temple, Sitabani Temple, Corbett Falls, Corbett Falls
Chail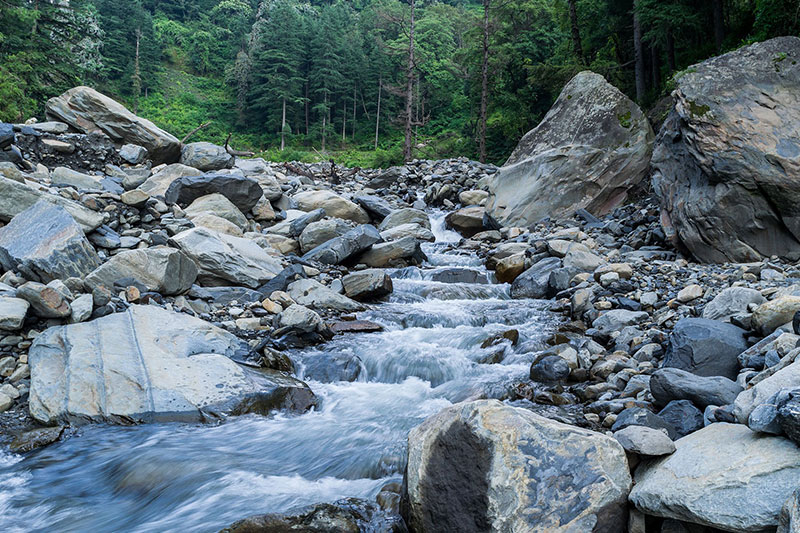 The former summer capital of the princely state of Patiala, Chail is a beautiful hill station located 63 km from Shimla in the Shivalik region of Himachal Pradesh. Chail is spread across three hillocks — Rajgarh, Pandewa and Sadh Tiba, covering an area of over 72 acres. Overlooking the valley of Sutlej, it enjoys pleasant climate throughout the year. Chail also offers magnificent and panoramic views of the surrounding countryside and overlooks both, Kasauli and Shimla. Chail was a sleepy little mountain village till its transformation in 1893. It was founded by the Maharaja of Patiala, Bhupinder Singh. Banished from entering Shimla for eloping with the daughter of Lord Kitchner, the then Commander-in-Chief of the British Indian Army, the Maharaja resolved to build himself a new summer capital better than Shimla.
Best Time to Visit
March-June
Connectivity
Train, Bus and closest airport is Chandiigarh
Attractions
Sadhupul Lake, Chail Palace Hotel, Kali Ka Tibba, Siddh Baba Ka Mandir, Chail Wildlife Sanctuary, Himalayan Nature Park
Delhi
Delhi , capital city of the Federal Republic of India. It is one of India 's fastest growing cities. To go right back into an era where mythology and history are too closely intertwined, it is believed that Delhi , then known as Indraprashtha, was the scene of action of India 's great epic, the Mahabharata. Periodic archeological excavations bring in more and more evidence to support this contention. It has sprawled over the West Bank of the river Yamuna, straddling the river. The city has two distinct parts, Old Delhi & New Delhi. Delhi is the second most widely used entry point into the country, being on the route of most major airlines. It is well linked by rail, air and road to all parts of the country. The remains of seven distinctive capital cities among them Shahjahanabad and Qutub Minar. Here, museums, art galleries and cultural centers attract the finest exhibitions.
Best Time to Visit
September to March
Connectivity
Air, Train and Bus are easily accessible
Attractions
Jantar Mantar, Raj Ghat, Qutab Minar, Lotus Temple, Jama Masjid, India Gate, Connaught Place, Red Fort, Chandani Chowk, Humayun's Tomb,
Agra
Agra, the mughal capital in the 16th and early 17th century, is full of architectural splendour of forts, mausoleums, and palaces. It is famous as being home to the Taj Mahal, one of the Seven Wonders of the World. Though its political significance ended in 1634 with the transfer of the capital to Delhi by Shah Jahan, its architectural wealth has made it an international tourist spot. The Mughals with their passion for buildings constructed some of the finest specimen of Mughal architecture in the city. The city is known for its superb inlay work on marble by craftsmen supposedly with a lineage dating back to the Mughals. Agra's handicrafts also include carpets, gold thread embroidery and leather shoes. Agra to have got its name from Agrabana, a forest mentioned in the epic Mahabharata. It came into prominence in 1501 when Sikandar Lodhi made it the capital city of his empire. It was during the time of Akbar, the great Mughal ruler that Agra came into its own. He commissioned the construction of the massive Agra Fort in 1565. Though Akbar built a new capital at Fatehpur Sikri not far away, much of the Agra's impressive past lingered on and is evident even today in the majesty of the buildings, the haunting presence inside the monuments, the exquisite arts handicraft and not to forget, the lure of exceptional cuisine… all, cherishing priceless legacies of a nostalgic past. The city has impressively retained much of its splendid history… captivating every tourist with fond memories to take back home.
Best Time to Visit
August to March
Connectivity
Air, Train, Bus
Attractions
TAJ MAHAL, AGRA FORT, ITMAD-UD-DAULAH ,FATEHPUR SIKRI